Federation Meetings and DFWI Events
FEDERATION MEETINGS AND DFWI EVENTS LOG
Autumn Federation Meeting 2019
The Riverside Centre Derby
390317
For a digest of the Autumn Federation meeting 2019 click here
National Federation of WIs Annual Conference 2019
Boournemouth Conference Centre
Oh we do like to be beside the seaside. A Brilliant two day excursion to the National Federation meeting in Bournemouth
369424
Resolution votes:
The decline in local bus services - The resolution passed with a 96% majority
Don't fear the smear - The resolution passed with a 97% majority
Annual Council Meeting March 2019
DFWI's Annual Council Meeting at the Winding Wheel in Chesterfield. Doors opened at 10am with a very full agenda the highlight of which was guest afternoon speaker, BBC presenter Jules Hudson.
For a digest of the minutes of the Annual Council Meeting 2019 click here
357951
Autumn Council Meeting October 2018 - held at Trent College Long Eaton
Fantastic day at a great venue with excellent speakers. The slideshow shows the flavour of the day
327561
National Federation of WIs Annual Conference 2018
Motorpoint Arena Cardiff
A flavour of the Federation meeting in Cardiff - glorious weather and a brilliant conference.
306431
Annual Federation Meeting - Tuesday 6 March 2018 at The Winding Wheel, Chesterfield
A packed house for this spring meeting with two very different but in their own way inspiring speakers. Our morning speaker was a local lad - Stephen Cooke who appears on the Egg Heads programme. In the afternoon author Joanna Trollope spoke about her heroine - Jane Austen.
Our appeal for The Elm Foundation came to a climax with hundreds of donations to this local charity. All the items brought to the Winding Wheel were taken to their headquarters over the lunch break.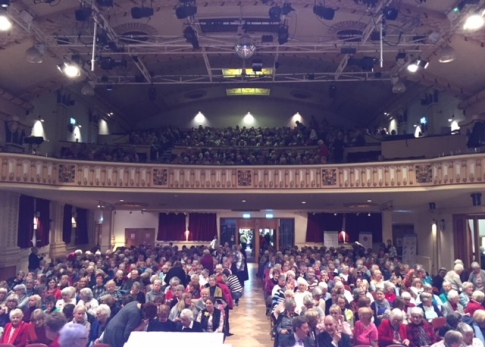 Can you spot yourself in this very full house?
286611
Autumn Federation Meeting - Tuesday 3 October 2017 at The Riverside Centre, Derby
Another brilliant day packed with information and entertainment. Our morning speaker, National Chair Lynne Stubbings spoke about the doors that have opened up for her since becoming a member. In the afternoon we welcomed Liz Carr (Clarissa Mullery, BBC's Silent Witness) a witty and thought provoking speaker who received a standing ovation for her courage and determination. Click here for Minutes of the Autumn Federation Meeting
The stall selling scarves for the Save Denman Appeal was a great success raising £1,100 on the day!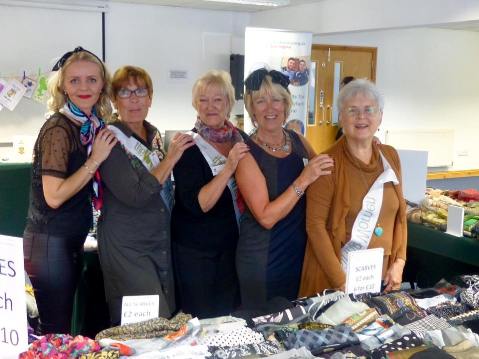 252737
National Federation of WIs Annual Conference 2017
Echo Arena Liverpool
2017 Annual Meeting – video highlights
If you would like to read a report or watch highlights from the meeting, please visit the Annual Meeting area on the My WIwebsite:
Derbyshire Federation ladies in Liverpool for the Annual conference in June 2017. Everyone seems to be having a great time.
On a more serious note - Resolution votes as follows:
Loneliness - 4334 for, 1919 against. 69.3% majority
Micro soup - 6132 for, 157 against. 98.9% majority.
Ladies, we have worked to do!
219382
Lunch with three of the Original Calendar Girls
Wednesday 22 March 2017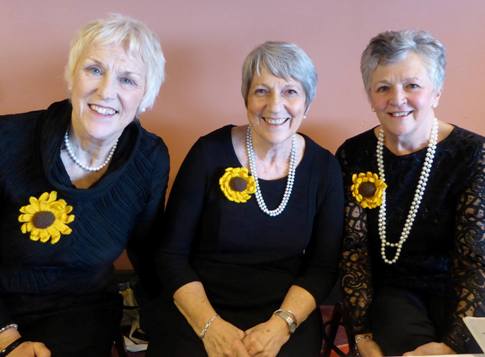 Three original Calendar Girls came to the Proact Stadium, Chesterfield today and gave us an incredible insight into the years they have spent raising £5million for the charity now named Bloodwise. 160 Derbyshire WI members attended and enjoyed the talk, lunch and camaraderie.
192425
Annual Council Meeting Saturday 4 March 2017 at The Winding Wheel - Chesterfield
A great way to spend Saturday and to offer the opportunity to attend a DFWI meeting to those unable to join us during the week because of work, careing or other commitments. We hope you all enjoyed the experience.
The hall was full to capacity to hear all our speakers. Our morning speakers, Christine Robinson - Head Housekeeper and Steve Porter - Head Gardener gave us a wonderful insight into life working at Chatsworth House both past and present. Our afternoon speaker Jonathan Mosley - acclaimed Floral Designer wowed us all with his floral displays whilst keeping us entertained with interesting hints
190676
Autumn Federation Meeting 2 October 2016 at The Riverside Centre - Derby
Another very successful Federation Meeting. Over 700 members were at the Riverside yesterday. Methodist Homes Association Music Therapists enthralled everyone during the morning and Rev Kate Bottley was our Guest Speaker in the afternoon. She was brilliant and got a standing ovation. Members arrived early but were content to queue in the sunshine for the doors to open. A truly wonderful event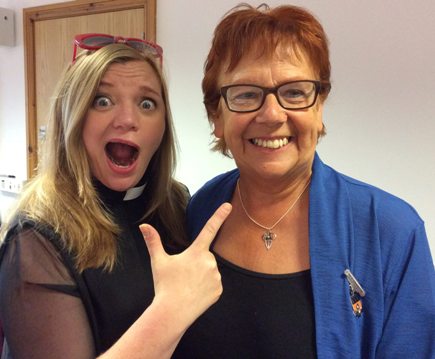 185326
.
Contact the NFWI
Phone: 020 7371 9300
Open hours: 9am–5pm Mon–Fri
Address: 104 New Kings Road, London SW6 4LY
Or fill in the contact form... to email a specific department