ACWW
ASSOCIATION OF COUNTRY WOMEN OF THE WORLD
Welcome to the ACWW Committee 2018
Sam Hall - Chair
Sue Watkins - Secretary
Jackie Flint
Ann Rimmer
Liz Neale
Carole James
For an update on the ACWW 2019 Autumn meeting please cick here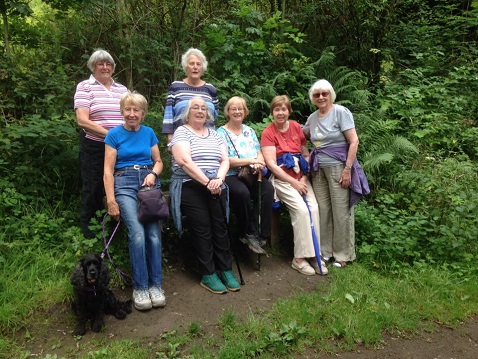 Bamford WI's annual ACWW day, with a walk in the morning followed by a bring and share lunch, this year in the Derwent Room, Bamford Mill. All donations for ACWW.
Congratulations to our very own Liz Christian who has been co-opted onto the ACWW Membership & Finance Committee.
For the report on the ACWW Midlands Suporters Day held in April 2019 click here.
For the latest ACWW Project Report click here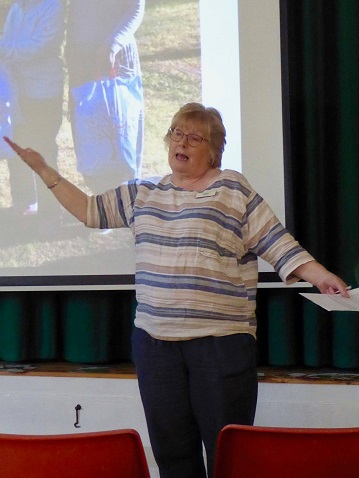 ACWW supporters enjoyed their day at Derbyshire House, sharing fund raising ideas, supporting the sales tables and learning about projects and forthcoming events and conferences.The afternoon speaker was Philip Shore who gave a talk about 'Shared Interest' - Investing in a fairer world. Watch out for ACWW diary dates, coming soon!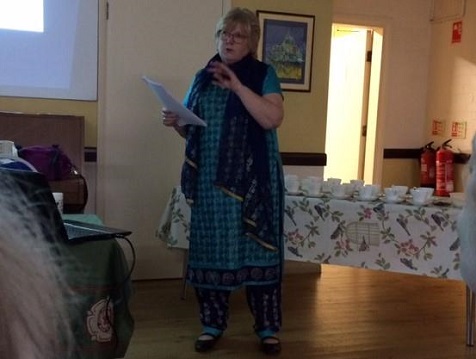 A busy evening at Ashbourne WI . Although we have contributed to ACWW (associated country women of the world) over the years, many of us did not know how it operated. Sam Hall gave us a fascinating insight into how our regular collections of 'pennies for friendship', used stamps and old coins helped fund projects around the world. The projects are all small scale, such as providing buckets to start a community growing mushrooms or providing water pumps in villages. The projects come out of the communities and all money raised goes direct to the community. All projects have to be self sustaining and provide real benefit.
__________________________________
2019 Pennies for Friendship
Last year we collected £4000 Pennies for Friendship at the Winding Wheel and some of you may have been wondering what was going to happen this year following the changes to the project funding process.
GREAT NEWS - we have had a letter from NFWI confirming that they are satisfied that all current projects agreed for funding meet the Objects of the WI. This removes any concerns about collecting PfF and Charity laws etc. It also confirms the WI collection of PfF will continue to be used exclusively for projects
However, the way you write your cheques will change.
1. Cheques should be made out to ACWW
2. On the reverse write either WIPFF or if you wish to specify a "funding stream" write WIPFF followed by appropriate area eg Sustainable Water, Sanitation & Energy
At the 2 supporter's days I asked people to vote for their preferred area as the ACWW committee will continue to fund raise for projects. The voting was:- 1st Sustainable Water, Sanitation & Energy 2nd Sustainable Agriculture, Training and Development Joint 3rd Income Generation and Livelihood : Maternal & Reproductive Health 5th Education and Capacity Building 6th Nutrition Good Health & Well Being
If you bring your PfF to the Winding please use any envelope but write your WI and the amount on the outside of the envelope
If you have any questions contact me on acwwderbyshire@yahoo.co.uk or via DFWI Derbyshire House
Other News
We finished 2018 in good style with 2 very successful Midlands Supporters Days. We welcomed old friends from across Derbyshire but several WI members came for the first time. Between the venue in Glossop and Derbyshire House over 120 members enjoyed listening to Hazel Armstrong talk about monitoring projects in Mongolia. I will be sending the Application form for our Spring Supporters Day on April 15th later in Jan. Put the date in your calendar.
Many of you were very busy in 2018 raising funds for the Rice and Maize growing project in Tanzania, benefitting 161 young women. I am pleased to say with your help we were able to send off a cheque for £3,743.
The definition of "Midlands" is definitely becoming elastic. We were joined by ACWW County Reps from N Yorks, Essex, Hereford, Northamptonshire who are all busy in their own Federations. It was great to hear all they do but I'm biased for me - "You're Simply the Best"
Wishing you all the 2019 you're hoping for.
Sam Hall
DFWI ACWW Rep January 2019
ACWW Autumn Supporters Days 2018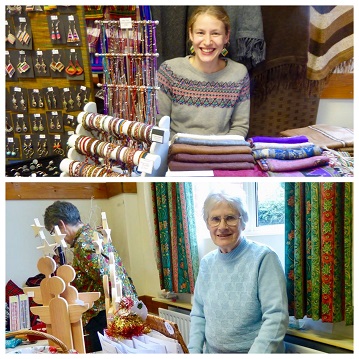 Today three Baslow WI members attended the ACWW Christmas Market Day at Derbyshire House. Lovely sales tables, Santa's Socks and a huge raffle! Delicious home-made soup for lunch and fruit punch at the end of the session. Excellent speakers gave members plenty of information and fund-raising ideas to take back to their WIs. This was a great day out! Thanks ACWW committee for your hard work and skilled organisation.
The ACWW Spring Supporters Day was held on Monday 16 April 2018
There will be a write up shortly from Sam Hall - Chair of ACWW, but here are a few photos of the day showing the variety of speakers and stalls. Click here for the Spring Supporters update
301809
ACWW Women Walk the World -April 2018 - Walking the Derwent Valley Heritage Way
296928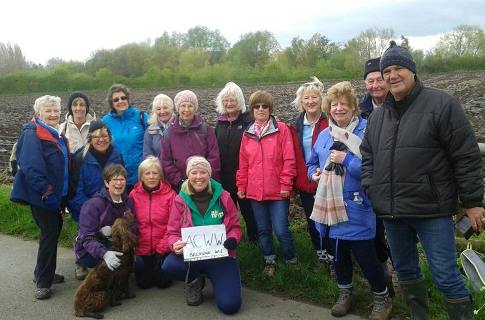 Well done to the Breaston WI ladies (plus partners and friends) who walked 10.31 km and raised £70 for ACWW . And an extra special well done to Julie for organising it .
_______________________________________________________________________________
ACWW Update February 2018
Dear All
It's hard to believe I'm talking about Spring when a freezing wind is blowing sleet around but spring events are upon us.
Spring Council is Pennies for Friendship time. Make your cheques to ACWW (PfF) and place in an envelope. Write your WI and the amount on the envelope, as this makes it easier for Liz Neal to give me the total. You will find Liz in the Winding Wheel foyer with a large collecting basket. If no-one is coming to Spring Council you can send it to Sherwin St.
I hope you will be able to join us at our
Spring Supporters Da
y at DFWI HQ Sherwin St on
April 16th
.
Click here
for application form.
Some of you may be planning a walk to participate in Walk the World on April 29th, but you might like to join Chrissie Bedwin and Liz Christian, two of our committee members, as they walk the Derwent Heritage Way April 24th-April 27th.
Details of their itinerary is below should you wish to walk to meet them. Chrissie has set up a donation page at Virgin Money if you want to support them. This is a link to their page http//:uk.virginmoneygiving.com/chrissiebedwin or you can google Virgin Money Giving and search on Chrissie or Liz's name.
Virgin don't charge for use of their system and the money will go straight to ACWW
Best wishes
Sam Hall
ACWW - Walk the World 2018!
Walk the Derwent Valley Heritage Way - with members of Higham and Shireland WI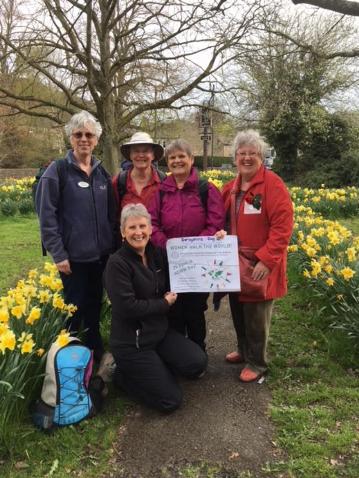 We cannot Walk The World but we can walk the Derwent Valley Heritage Way following the River Derwent from the Ladybower Dam to Derwent Mouth where the river joins the River Trent. We would welcome people joining us for parts of the walk either as part of their Walk The World effort or just for fun. We will be setting off from the starting point at 10:00 each day and will walk steadily having a lunch break and a couple of drinks breaks somewhere every day. We cannot guarantee that we will be at an intermediate point a specific time. If people wish to walk with us in the morning there are suggestions on how to return to the start point. People will have to confirm bus & train times for themselves! If people wish to walk in the afternoon, we suggest that they walk the route backwards from the day's end point until they bump into us and then turn round and walk back to the end.
On the Friday afternoon we will be leaving Shardlow at 14:00 to walk the final mile of the route with as many people who wish to join us.
________________________________________________________________________________________
ACWW Update December 2017
As we approach the end of 2017 it's a good time to celebrate what a great year we've had. We have had the most people attend our November Supporters Days. Hazel Armstrong gave a presentation at Derby and Glossop on several projects.
Debbie Reardon is the Friendship Link Co-ordinator and will help to put individuals or WI's in touch with same across the world. I have scanned and attached the application form if you are interested.
Click here for Friendship Links information letter.
Click here for Friendship Links Application Form
We fed back on the ACWW European Conference held in Romania. Sue told us how WI's had established a link with women in Romania after Ceausescu. After the meeting we discovered that a lady present at Glossop had been part of that group. If anyone knows who she is please let us know. Chrissie Bedwin visited the Domestic Violence Refuge in Sibiu that Derby supported. They continue to grow and support women and children. Liz Christian gave a personal perspective on Transylvania and Sam covered the business of the conference.
After completing our sponsorship to Kituntu, Uganda Water for Life project to provide clean water to 834 people, we signed up to sponsor "Cows for Dalit Widows". Derbyshire WI's have been so generous raising funds via tea parties, sales etc. We are well on the way to meeting our commitment.
At the Spring Council meeting WI's donated £5k Pennies for Friendship. We had a very successful meeting in April with an excellent presentation about polio vaccinations in India.
15 WI's have invited me to speak this year and bookings are coming in for next year
The ACWW committee thank you so much for all the support you give us throughout the year and wish you "Merry Christmas and a Happy New Year"
D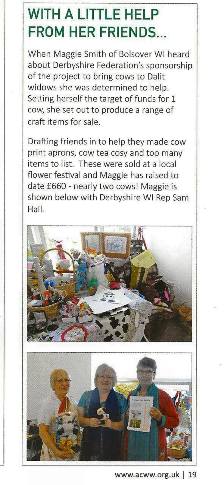 BOLSOVER WI has this article in the ACWW magazine 'Countrywoman' - well done. Maggie Smith and friends have raised over £600 so far for DFWI projects for ACWW by making items for sale around the theme of cows!
ACWW Christmas Market - Monday 20 November 2017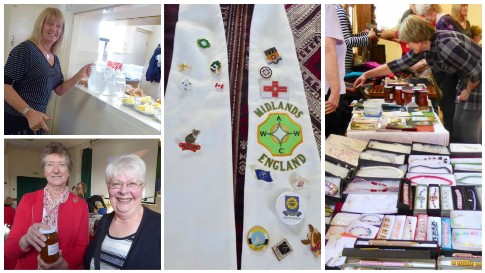 ACWW - ASSOCIATED COUNTRY WOMEN OF THE WORLD: Today eight Baslow WI members enjoyed their day at Derbyshire House for the ACWW Christmas Market. Inspirational speakers told us about the international projects they had been involved with and shared fundraising ideas. The ACWW Team at DFWI welcomed us and provided us with great hospitality including a lovely light and warming lunch. Thanks - may we come again?
ASSOCIATE COUNTRY WOMEN OF THE WORLD (ACWW)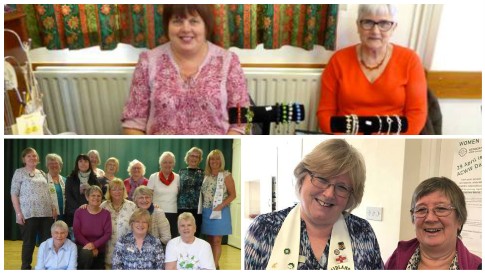 WI members from all over Derbyshire enjoyed a wonderful day at DFWI HQ yesterday. In the morning we learnt about various projects, these included goat, pig, water and vegetable garden projects. Lunch consisted of tasty thick soup and delicious fresh fruit and we had time to chat and of course shop! Our afternoon speaker was Gregory Mastalick who told us all about eradicating polio. Sam our ACWW rep will be reporting fully in the near future.Thanks to Sam and the DFWI ACWW Team for their hard work making this day so informative, inspiring and successful.
ACWW Update - August 2017
Dear All
I hope you have all enjoyed the summer. Some of you have been really busy fundraising helping us towards our commitment to providing cows for Dalit widows. We have received some fantastic cheques over the past few months.
Kath Shelton of Old Brampton and District decorated milk bottles and used them to raise funds at a WI lunch. Perhaps this is an idea you could add to the list I sent out earlier in the year. I have photo if you would like one but don't want to overload attachments this time
Maggie Smith of Bolsover set herself the target of funding 1 cow by selling cow themed craft items, to date she's raised enough for 2! She will be brining items for sale to Glossop. Her work inspired a member of Bolsover's poetry group and
I attach a copy of the poem
.
September is the time we invite you to come along to our Midlands Supporters Day. This year there will be a day in Derby on Monday 20th Nov AND an afternoon in Glossop on Tuesday 28th Nov for those in the North. We hope this will give more of you the chance to come and find out what happened at the European Conference. Hazel Armstrong will be speaking on more projects she has visited, hopefully including Derbyshire's.. Look out for guidance to" Santa's Sock"s with your ticket
Best wishes to all
Sam Hall
ACWW Update - April 2017
On a bright spring day, over 60 members joined us for our Midlands Supporters Day. During the morning we heard from surrounding Federations and several WI's on their activities during the past few months. Sue Watkins passed on greetings from Ann Marit Hovstad, Chair of the Projects Committee and Afrodita from Romania
After the fundraising ideas I sent out last year Stapenhill had asked members to count all sources of water:- taps, toilets, sinks etc and donate a small amount for each. They raised over £50!
Greg McScarlick talked to us about immunising children against polio in India. So simple, so effective. Last year there were just 37 cases of polio in the world. Eradication is so close.
April is Walk the World month (29th) We have been asked for a sponsorship form so I have attached a copy. Remember it's not about how far, if you walk on the 29th you will connect with women all over the world. Just enjoy your walk and raise funds for ACWW. If you send your cheques to Derbyshire House, made out to ACWW Derbyshire and marked WtW on the back, we can submit 1 large cheque to ACWW cutting down on their banking charges. Don't forget to send me photos.
_______________________________________
ACWW at the Annual Council Meeting 4 March 2017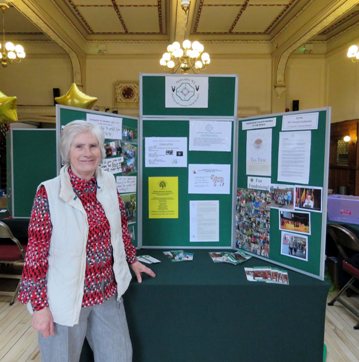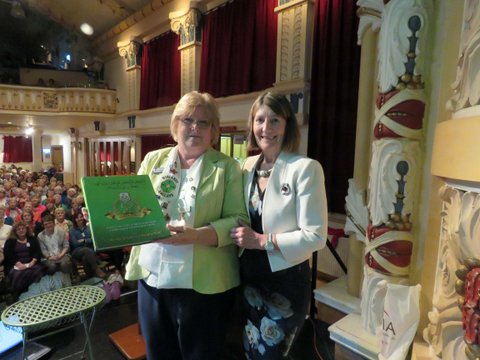 ACWW – Pennies for Friendship
A quick reminder for those collecting Pennies for Friendship throughout the year. February is your last chance to collect at your WI before handing it in at the Spring Council Meeting.
Please make your cheque payable to ACWW (PfF). Envelopes will not be sent out through Link so please use any spare envelope but remember to write the name of your Institute and the value of the cheque on the outside. We can then announce the total in the afternoon.
New labels to update collection tins can be downloaded here
Derbyshire WI's raised £5365.73 in 2016. Let's see what we can do in 2017.
Remember if you want to know more about Pennies for Friendship and the work of ACWW you can always invite me to give a talk.
Sam Hall
ACWW Rep
_____________________________
HAPPY NEW YEAR - ACWW update January 2017
We start 2017 with some great news. Following the November Midlands Supporters Day we fulfilled our commitment to sponsor the project in Kituntu. 834 villagers now have access to clean water.
Never letting the grass grow, we have signed up for 2017's project. The aim is to provide 15 very poor Dalit widows with a milk cow. As the cows breed, further female calves will be passed to another widow. They will be able to sell milk and cow dung.
It is expected that the beneficiaries, who presently have to rely on daily agricultural labour for employment, will have a more sustainable income as a result of this project allowing them to send their children to school and meet their family members' other needs. They will become self-reliant and lead a more dignified life than before.
Pennies for Friendship.
Don't forget to bring your Pennies for Friendship to the Spring Council. You will need your own envelope as we will not be sending them out in Link. I am glad to say using your own envelopes didn't have a negative impact on the funds raised. You donated a fantastic £5635.73. Remember to write your Institutes name and the value of the cheque on the outside. Cheques are made payable to "ACWW Pennies for Friendship
ACWW is kept alive by the Pennies for Friendship fund. Without continued support from all members, ACWW will not be able to sustain the critical work it does worldwide..
These ideas are quick and easy ways to raise money for Pennies for Friendship;
Count the number of sinks and toilets at home - much of the world has no clean, safe water! For each, donate 25 pence
Measure your height. Many children in the developing world suffer from malnutrition and stunted growth. For each each centimeter, give 5p/10p inch
Count the plug sockets in your house. Technology is a huge luxury that makes our lives easier every day. For each socket, give 5 pence
How many pairs of shoes do you have? Millions of children around the world have no choice but to go barefoot. For each pair, give 20p/50 p
Fine yourself 50 pence each time your mobile phone or watch alarm goes off in a meeting or other social gathering!
To celebrate your birthday, lay down sticky tape on the kitchen table - with 1 metre (3.3 feet) for each decade. Get your friends and family to stick coins along the lengths of tape
________________________________
ACWW Report 2015-16
We held 2 well attended Midlands Supporters Days in Nov 2015 and March 2016. Money raised at these events has helped Derbyshire towards fulfilling its pledge of £5317. We hope the events planned in Glossop on Oct 17 and Nov 21 will see the total reached.
To date the villagers of Kituntu have built 2 of 3 wells, benefiting 834 people with clean water.
22 Derbyshire members attended the Triennial Conference at the University of Warwick, Coventry.
Sam has given 10 talks at WI's on the work of ACWW. Further talks are planned for 2017.
Members continue to collect stamps, jewellery and coins to raise funds. Over £5k was raised by Pennies for Friendship by Derbyshire WI's.
ACWW at the Autumn Council Meeting October 2016
ACWW was well represented at the meeting with Sam Hall - Chair giving an update on the Triennial Conference earlier this year and announcing that Derbyshire Federation had already almost reached the target of over £5,000for the current water project bringing. There was also an information stand manned by a member of the ACWW team.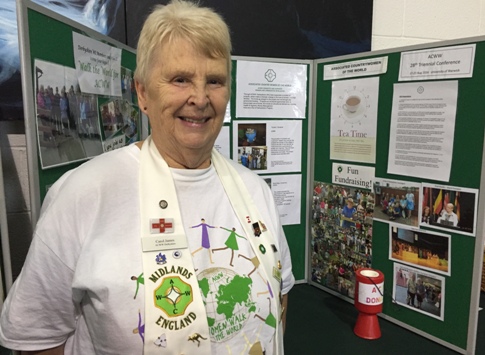 ACWW Triennial Conference August 2016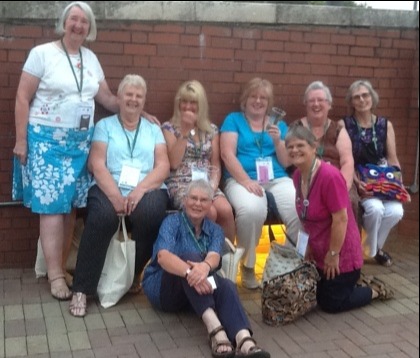 DFWI representatives at the Triennial Conference in August 2016
Visitors from New South Wales
At the Bakewell Show on Thursday 4th August 2016, two ACWW representatives from New south Wales visiting for the Triennial Conference later this month, joined DFWI members for the afternoon.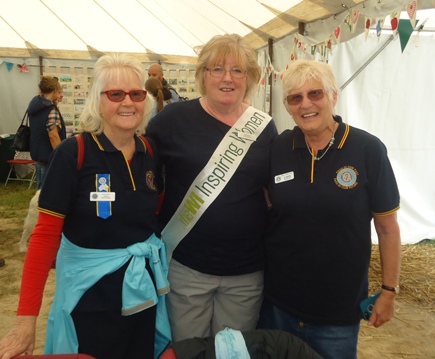 Left to right: Janice McTacckett from Toukley, Sam Hall our very own ACWW representative and Linda Roberts from Terriyan Evening Group
ACWW Update – May 2016
Through ACWW, Derbyshire's WI's have supported a number of projects, which make a dramatic change to the lives of women and their families. The funds go straight to the project and not through any government bodies. Projects are monitored against their aims to ensure best use of funds. All include an educational element - Literacy, Health & Hygiene, Money Management
DFWI completed projects for 2015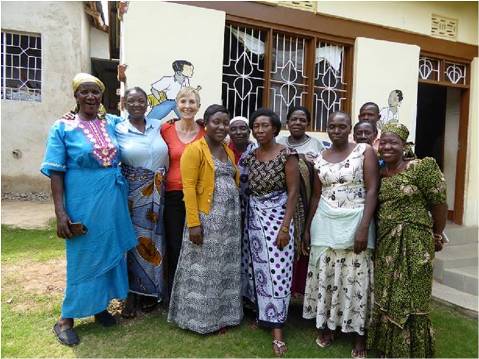 Women of Tumaini with ACWW Rep
Tumaini – Tanzania - £2806.00
Mushroom Cultivation
Money raised to provide compost and mushroom 'seeds' so that the women of the village could improve the diet of their families – mushrooms are a good source of vitamins and protein. The women sell fresh and dried mushrooms to local restaurants and hotels. The money also covered training in mushroom growing and basic business skills
______________________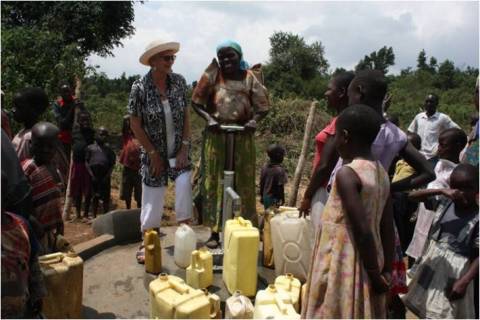 Shallow well at Kituntu
Kituntu - Uganda - £5317
Managed Water for Life
Two shallow wells have been constructed in Kituntu village, benefiting 834 people with safe water. Previously the villagers had to collect water from ponds which were not clean. The women and children of the village are benefiting the most as it was their job to collect water. It is expected that the health of the villagers will improve as a result of this project. The project includes Hygiene Education
____________________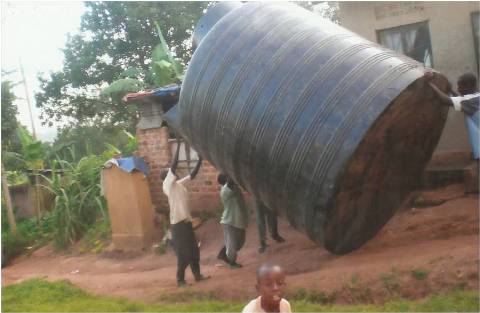 New Holding Tank at Kikajjo
Kikajjo –Uganda - £1645
Managed Water for Life
Phase 2 of a project which enabled water to be pumped into the village and increase the size of the holding tank.
Women and girls no longer need to walk miles to collect water from the safe water well.
DFWI project 2016
Kituntu - Uganda
Managed Water for Life
The current project is another clean water one in Kituntu
____________________
Women Walk the World at Carsington Water for ACWW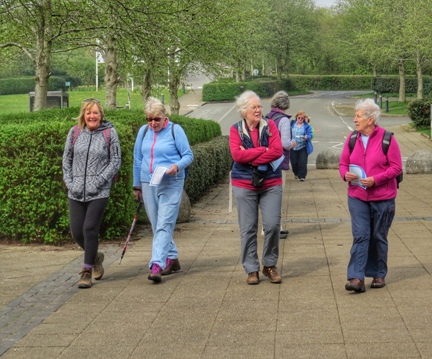 We raised over £70 at Carsington Water when we were joined by members from Barlow, Belper, Breadsall, Chaddesden, Cromford, Risley Hulland & District, Old Brampton & West Hallam . I know many of you held your own Walks and I look forward to giving you that total in the near future.
The day was sunny if a tad cool. Members set off on walks of varying distances.
Derbyshire WI's adopted ACWW Project (no.0885)
Hope of Love Quilt, see below, was created and made by Sue Watkins
Sue says:
"If you had told me I would be asked to design and stitch the only entry from England for an International exhibition in Malaysia, I would have laughed with surprise! But, I was asked just that last year. The quilt is now in Malaysia and the exhibition will be staged in June 2013. I hope you think I have adequately shown some of our English culture and history! "
Read more about the quilt here
Derbyshire WI's ACWW Project 858 : cost £4224
Safe Drinking Water in 12 Villages through bore wells in the drought affected villages of the KhammamDistrict of Andhra Pradesh, India.
Why? The most drought hit areas where people really suffered for want of drinking water were selected. Safe and clean water would protect those people from water borne diseases like diahorea, malaria and typhoid.
Result : The bore wells have solved the drinking water problem. They have brought unity and "helping nature" among all the people of different castes, religions and creeds. Usually women of different castes come together to draw water at the hand pumps and it gives them a chance to exchange their ideas and be united.
All the hand pumps are being used by the people and they are happy that they have drinking water at their reach.In the surrounding areas there are no drinking water facilities due to severe drought. Now the beneficiaries are very happy and they are very grateful to you as they have clean drinking water.
Romania: Knitting to Secure Women and Children, Victims of Domestic Violence - Cost: £4,156
The aim is to support the activities of the shelter for abused women and their children in Sibiu,central Romania. The beneficiaries (the mothers and their children in the shelter, and others who seek help there from time to time) will be taught by volunteers how to knit and how to make soft toys (bears).
[March 2012]
Contact the NFWI
Phone: 020 7371 9300
Open hours: 9am–5pm Mon–Fri
Address: 104 New Kings Road, London SW6 4LY
Or fill in the contact form... to email a specific department